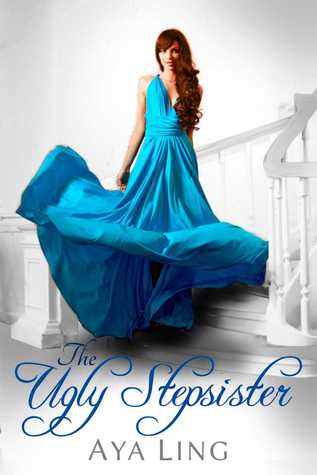 When Kat accidentally rips apart an old picture book, she's magically transported into the world of Cinderella–as Katriona, one of the ugly stepsisters! Life turns upside down now that she's a highborn lady and must learn how to survive the social season, including how to get through the door in a huge metal hoop skirt. To get back, she'll have to complete the story, right to the end of happily ever after. But the odds are huge: the other stepsister is drop-dead gorgeous, the fairy godmother is nowhere to be found, and the prince, despite being insanely hot, openly dislikes balls. Can she ever return to the modern world?
***Disclaimer: I received a free copy in exchange for a review.***
Well, this wasn't quite what I expected.
It started off quickly headed for the DNF pile; our heroine was lifted straight from the pages of Twilight- average looking geeky chick with her nose stuck in a copy of Anne from Green Gables (instead of Wuthering Heights), helps take care of her family, always awkward around teh hot guyz and trips over her own feet to land smack dab on top of one.  Right.
Then, it got better.
Once Kat gets zapped into the story, things improve.  She's a fish out of water, with not knowing how to be a proper lady of polite society, but she learns fast.  Plus she gets a little help from a disembodied mischevious goblin named Krev, who doubles as a bit of a spirit guide and well as being tasked by the Goblin King with keeping tabs on her.  Trust me- it'll make sense when you read it.
As the title says, Kat's no Disney Princess- she's actually standing in the way of the HEA.  Yet things aren't quite the fairy tale she remembers.  Now her job is to find out who Cinderella is, why hasn't the Fairy Godmother shown up yet and contrive to get the Prince off his duff to choose his bride, otherwise she'll remain trapped in the book, never to go home again.
As always, the Devil (and the fun) is in the details.  Author Aya Ling weaves a tight story around the mystery of Cinderella's identity, along with a few wrinkles tossed in to keep you on your toes.  It was fun watching Kat flounder around in this fictional Victorian realm, only to end up taking the place by storm.  A couple of the story threads come a little fast and furious at times, but you catch up quick.  Others have complained about the ending, but I was ok with it.  But after becoming vested in the story, I was left wondering how things worked out for the other characters.
Only real complaint here is that it could've been shorter.  A ruthless editor would greatly help this book by paring down a lot of filler and fluff- you don't need 450 pages just for a different take on Cinderella.  Even so, it's still an enjoyable, engaging read.  4/5 stars